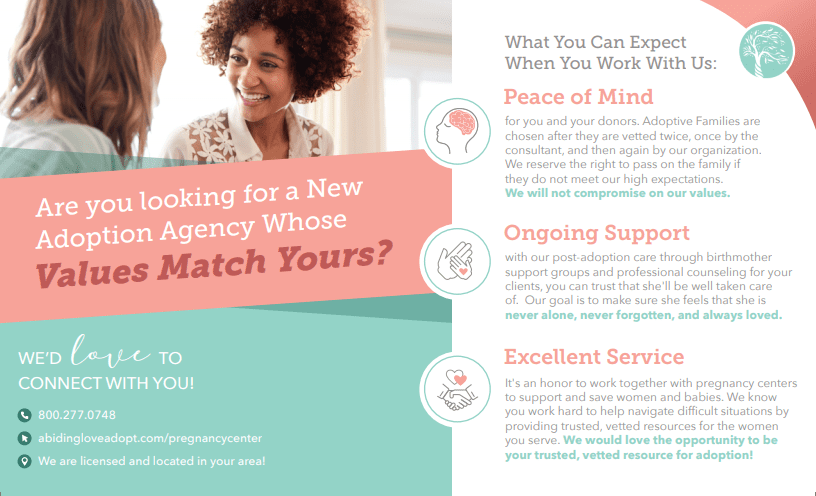 By Guest Blogger Brandy Meeks– Former Pregnancy Center Director, Current Vice President of Operations with

ProLove Ministries

and

And Then There Were None
I am so blessed to know many of you by name. To my colleagues working in pregnancy centers in Florida, Alabama, South Carolina, Georgia and Tennessee– I am so honored to get a chance to share my heart with you about something really important to me.
You see– I served as the executive director of a pregnancy center for several years. Then I worked at Vitae Foundation, collaborating on projects with Care Net and sharing right-brain research at Heartbeat International's Conference. I have worked in the pregnancy center movement for most of my career. I've probably chatted with many of you at conferences at some point. Thank you for the amazing work you do!
Just like you—I have a huge heart for the babies we work so hard to save.
Just like you—I have a particular soft spot for the women who are making incredibly difficult decisions about adoption, abortion and parenting.
Just like you— I have huge concerns about who women are referred to for life-saving resources after they come to pregnancy centers, like pro-life OB-GYNs and adoption agencies.
This is why I am sharing with you today. Recently, there have been some changes with adoption agencies and their vetting processes that make many of us uncomfortable. I have watched the team at Abiding Love shine with integrity over the years and shine even brighter now, when things in the adoption referral world seem a little dark. If you're looking for a trusted resource, I would like to share a few reasons why I believe that Abiding Love Adoptions is the perfect fit for pregnancy centers in your area.
Peace of mind for you and your donors. Adoptive Families are chosen after they are vetted twice, once by the consultant, and then again by Abiding Love. Abiding Love reserves the right to pass on the family if they do not meet their high expectations. They will not compromise on their values. <– This is a breath of fresh air for your staff to be able to confidently share with donors when they ask questions about the adoption network you have in place for your clients.
Ongoing support for your patients and clients. With Abiding Love Adoption's post-adoption care through birthmother support groups and professional counseling for the women you serve, you can trust that she'll be well taken care of. They've even recently launched a new charity to provide for additional services for your clients who have placed their babies for adoption through Abiding Love Adoptions. It's simply beautiful. They want to help her achieve her goals and heal from past hurts, and their commitment to your clients is unmatched. Their goal is to make sure she feels that she is never alone, never forgotten, and always loved.
Excellent care that is local.  It's an honor to work together with pregnancy centers to support and save women and babies together! I know you work hard to help navigate difficult situations by providing trusted, vetted resources for the women you serve. I remember the prayerful consideration we gave any time we added a number or website to a resource list at my pregnancy center. Abiding Love Adoptions would love the opportunity to be your trusted, vetted local resource for adoption. They are licensed and have local staff in Florida, Alabama, South Carolina, Georgia and Tennessee.
It is important who you link arms with– which is exactly why I am writing this. If you want peace of mind regarding how the prospective adoptive parents are chosen, ongoing support after the adoption for the women you serve, and a local adoption agency that you can meet with face to face, Abiding Love Adoptions is your best option!
If you'd like to sign up for a time to meet with Abiding Love Adoptions staff, please sign up here and we'll connect with you for a visit!